Acquiring a slice of success in Romania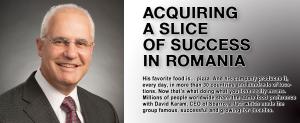 His favorite food is... pizza. And his company produces it, every day, in more than 30 countries and hundreds of locations. Now that's what doing what you love really means. Millions of people worldwide share the same food preference with David Karam, CEO of Sbarro, a fact which made the group famous, successful and growing for decades.
Sbarro started out as a family business, later becoming an international player. It is a pizzeria chain that specializes in New York style pizza sold by the slice and other Italian-American foods, such as salads, pasta and stromboli. The company has a long history, being founded in 1956 by Gennaro and Carmela Sbarro, a couple that immigrated to America from Naples, Italy. The same year, the Sbarro family opened their first salumeria, an Italian grocery store in Brooklyn, New York, which became popular for its fresh food and Italian fare. The success of the Sbarro Salumeria led to the opening of additional locations in the New York City metropolitan area. In 1970, Sbarro opened its first mall-based restaurant and the commercial centers became a main target in its expanding strategy ever since. Nowadays, more than 80 percent of Sbarro restaurants are located in shopping malls. The group activates in 800 locations in 33 countries, employing more than 3,500 people. In the United States, its restaurants are located in shopping malls, airports, service areas, and college campuses, as well as in The Pentagon, American naval bases and casinos. Sbarro operates its restaurants using a franchise, both in the USA, as well as internationally.
The first Sbarro restaurant in Romania opened its doors to visitors in October 2017. David Karam made a surprising assessment when talking about the opportunities this market brings: "One of the main things which attracted us in Romania was the large number of malls here, especially in the Capital. I think there are more malls in Romania than in many countries in which we already operate. Although the domestic market is a relatively small one, there are definitely a significant number of shopping malls and lots of development opportunities," the Sbarro CEO said.
Less than two months after the first restaurant launch, the pizza chain opened a second one in Bucharest. The investment in opening a Sbarro location varies from country to country, the CEO explained, and it is situated somewhere between 200,000 and 400,000 dollars, with a return for the investment in a three-year time span. "We analyzed the Romanian market thoroughly and saw that while the quick service segment has seen a significant number of concepts entering, there is still great potential for growth, even for a brand new to the country. I would say that one of the main challenges is competitiveness of the market, where international, as well as local brands, participate as players. We are confident that our offerings will resonate with consumers quickly, especially given our commitment to fresh ingredients including daily made from scratch dough."
What will happen next? Expansion, expansion and more expansion, said the Sbarro CEO when asked about plans on the Romanian market. "We continue to work in growing our brand both in the United States and abroad and we feel we've done a lot of heavy lifting in repositioning our brand. Much of our initiative and focus right now is on trying to identify growth opportunities." Therefore, Sbarro will open two additional locations in Romania by the end of the year and a total of 20 in the next 10 years. "We are a new brand on this market, so we have to adapt our offer in order to see the feedback given by our customers. We focus on the Capital at the moment, but our extension plans also target large cities in Romania, such as Timisoara, Cluj, Brasov and Constanta."
How is Sbarro planning to achieve recognition on this market, where pizza is one of the most favored dishes and the competition in this segment is fierce? The answer comes in a blink. "We count on the best and the most fresh ingredients, fast-delivered and constantly-delivered. In Romania, we work with Metro for acquiring fresh ingredients, the beer we get from Bergenbier, the soft drinks from Coca-Cola, the flour for the pizza dough we procure from Dossche Mills, Belgium, the tomato juice from Cirio and the mozzarella cheese from Galbani, Italy." Karam admits quality isn't the only secret to his successful business. "Patience and discipline are qualities that are really needed to succeed in this crowded and competitive industry. I feel very proud of the work that our team has accomplished with the Sbarro brand. We've attracted a lot of new franchisees and have the brand growing."
The Sbarro CEO's professional trajectory would leave many people breathless. David Karam worked more than 30 years for Cedar Enterprises, a company which operates franchise restaurants in USA states. "My first foodservice job was at Wendy's when I turned 14. It was really exciting because Wendy's was a small chain that was growing rapidly. My father became a franchisee and opened his first unit when I was in college. After four years in public accounting, I came to work for him. When Trian Partners acquired Wendy's, CEO Nelson Peltz asked if I would run the brand, and I did that from 2008 to 2011. We got the business back on track and grew our market share. I left at the end of 2011 and was going to focus on fast casual, which I really believe is an emerging segment. But then some investors reached out and asked if I would help them with Sbarro. I assumed the role of CEO in 2013."
When David Karam took over Sbarro, the company wasn't exactly in a good shape. "While it had gone through a restructuring a few years earlier, Sbarro had left a lot of debt on the books. We developed a plan for a second restructuring. The first thing that surprised me was that, although we positioned on the market as an Italian cuisine restaurant, more than half of our menu products weren't pizzas, but chicken dishes, pasta, vegetables... I looked at the sales figures and I saw that most of them were generated by pizza, stromboli and drinks. So, Sbarro had a broad menu offering, and I felt there was a big opportunity to tighten the positioning around pizza. So, we eliminated probably 30 or 40 percent of the menu items. We closed about 170 restaurants, shed almost all of our debt, and put the business on very sound financial footing."
These actions totally transformed the face of Sbarro. It now had a new concept as a New York style pizzeria, a new design and a new logo to match the repositioning of the brand. It became the sixth largest pizza chain in the world, with businesses worth 500 million dollars. And 2017 was a great year for Sbarro, Karam disclosed, with over 70 new restaurants opened worldwide, 40 of them in the USA.
Some of the latest markets Sbarro entered are, along with Romania, also Argentina, Japan, Belarus and Uruguay. Globally, up to 30 percent of Sbarro's turnover comes from its main restaurants and the rest from the franchisees. Last year, Sbarro had revenues of 65 million dollars, 75 percent being represented by franchisees. For this year, Sbarro management is planning to lower down these percentages and to focus more on the franchise system than on its main restaurants. "We believe it is important to know both restaurant and the real estate markets that belong to a certain country, but, since we don't have the necessary time and resources to learn them, we think the brand is in better hands with a qualified franchised partner," explains David Karam, who admits he has a weakness for pepperoni pizza, which, surprisingly enough for him, is a specialty not so much favored in Romania, as it is in the U.S. "The cheese pizza sells best here, followed by the mushroom one, then the chicken one, which is a bit odd, as the pepperoni pizza is usually the one with the most success everywhere in the world. But it all depends on the preference of the consumers. In U.S., pepperoni and cheese pizzas are most favored."
Reaching to the consumer's heart by offering delicious food comes natural, once the consumer has had a taste. Sbarro has other challenges to worry about. "There are three major challenges," says David Karam. "One is building the brand awareness and the second is hiring personnel, which in Bucharest, where the unemployment rate is around 1.5 percent, it is rather difficult. Another challenge, not only in the case of Romania, but also worldwide, is discovering and negotiating a good commercial space. The difference between space with a good customer traffic and a modest one reflects one hundred percent in the sales and in the business performance. Patience is needed when looking for the best commercial space. You need to wait and negotiate a good deal and this takes time," said Karam.
Patience is a key-ingredient, the Sbarro CEO always remembers when dealing with his business responsibilities. Outside its business, his family is at the center, along with his Catholic faith. He is ready to offer full support to the Romanian Sbarro team so the brand will keep on growing on this market. "I am aware that any market we enter offers a new experience, so everything takes time. I am fully focused on providing all the necessary support so our franchised partner knows success here. We are sending people who can offer instruction, who can supervise the strategy and the operations development, who can offer counseling. We are also trying to offer support on logistics, price policy, restaurant design or equipment. We not only need to generate awareness, but we also want to determine Romanian customers to try our pizza. If we make the consumers try it, I am very sure they will the reach the conclusion that it's a best-quality pizza, at a very competitive price."
The interview is also available in our print edition of Business Arena.
COMENTARII:
Fii tu primul care comenteaza