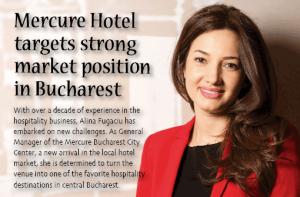 With over a decade of experience in the hospitality business, Alina Fugaciu has embarked on new challenges. As General Manager of the Mercure Bucharest City Center, a new arrival in the local hotel market, she is determined to turn the venue into one of the favorite hospitality destinations in central Bucharest. In an interview with Business Arena, Alina Fugaciu spoke about the plans and strategies aimed at increasing the hotel's prominence and attractiveness in a highly competitive market.
As a newcomer in the Bucharest hospitality market, what are the main aspects that Mercure Bucharest City Center relies on in its effort to attract more and more guests?
Mercure attracts with its novelty, freshness and charm. As a general rule, each Mercure hotel draws its inspiration from the local traditions and tries to reflect them in its decor and atmosphere. In our case, the story began from the fact that we are located on a street named after a famous composer, George Enescu. And if we also consider our proximity to the Romanian Athenaeum and the George Enescu Museum it is becoming clear that music is our main theme. The theme is present on our façade, in the lobby, with its décor lights resembling cymbals, on our personalized tableware, whose design displays a musical fragment from the Romanian Rhapsody, and so on.
What are the distinguishing features of the hotels operating under the Mercure brand?
Each Mercure hotel is unique. Starting from the international quality standards, recognized and appreciated by customers all over the world, each Mercure Hotel is characterized by the local flavor.


To read the full version, see the print edition of Business Arena.
COMENTARII:
Fii tu primul care comenteaza