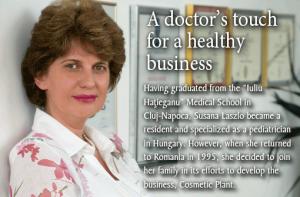 Having graduated from the "Iuliu Hatieganu" Medical School in Cluj-Napoca, Susana Laszlo became a resident and specialized as a pediatrician in Hungary. However, when she returned to Romania in 1995, she decided to join her family in its efforts to develop the business, Cosmetic Plant. In 2009, Susana took over the reins of the company and since then she has led a constantly growing operation, which posted a turnover in excess of 1.6 million Euro last year.
Susana Laszlo admits that the beginning was not easy. Cosmetic Plant was created in 1991 by Susana's mother, Ileana Mester, a pharmacist with over 20 years' experience in cosmetology. She borrowed 1,000 USD to start the business and in the early days she used to work alone in a 40-sqm room. A Cluj-Napoca engineer converted a laundry vat and made her first blender. It was a time when the company produced cosmetics in small quantities, while labels were handwritten. It took six years for the business to make its major step forward, with its move to a suitable location and the acquisition of the first professional pieces of equipment, in 1997. From then on, the company started to add new pieces of equipment each year - a new blender, a dosing machine and a tube filling machine - and slowly the business started to grow.
The beginning of 2004 marked an important moment in the development of Cosmetic Plant, as it received the ISO 9001:2000 certification from Dekra Stuttgart. Several years later, in 2007, the company saw the completion of construction works at its future headquarters. As the facility was still too large for the company's needs, it was leased out until the spring of 2013, when the factory, its storage facility and offices moved to the premises. "The investment project required 750,000 Euro, as the 1,700 sqm facility observes the European standards for cosmetics manufacturing. We are proud to have received the GMP (Good Manufacturing Practices) in accordance with the ISO 22716:2007 standard," said the company's general manager.
To read the full version, see the print edition of Business Arena.
COMENTARII:
Fii tu primul care comenteaza