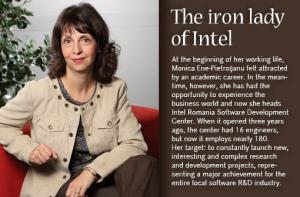 At the beginning of her working life, Monica Ene-Pietrosanu felt attracted by an academic career. In the meantime, however, she has had the opportunity to experience the business world and now she heads Intel Romania Software Development Center. When it opened three years ago, the center had 16 engineers, but now it employs nearly 180. Her target: to constantly launch new, interesting and complex research and development projects, representing a major achievement for the entire local software R&D industry.
When did you join Intel's software division?
I took over as Country Manager for Intel Romania Software Development Center in July 2011, roughly half a year after the announcement regarding Intel's decision to select Romania as a host for its center. Intel had already been looking for a candidate for the job and I had the necessary local and international experience.

What was your first successful project? What did you do before joining Intel?
There have been many successful projects. But my first team project was with the Windows Security research and development team at Microsoft. The project involved the creation of a set of security evaluation instruments during software execution. We even got those instruments patented.
Do you remember your first day at work? What were your initial plans and how has everything worked out?
I started as a teaching assistant at the Faculty of Automation and Computers within the Politehnica University of Bucharest. My first day at work involved a natural transition from my role as a student to a new position, on the other side of the desk, teaching some of my younger colleagues certain aspects regarding the Linux operating system architecture. It was an excellent opportunity for me to remain in contact with the faculty where I also started my doctoral studies. However, I also have very strong memories from my first working experiences in the United States, where I arrived together with my husband two or three years after university graduation. Initially, I went to the US for a period of three years, but I ended up staying for nearly eight. The experience I gained during all this time has been invaluable: I worked in multicultural teams, on complex software projects, coordinating people with different personalities, training backgrounds and competences.


To read the full version, see the print edition of Business Arena.
COMENTARII:
Fii tu primul care comenteaza