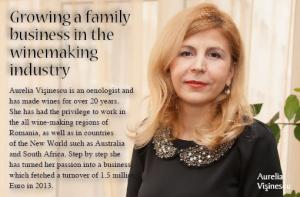 Aurelia Visinescu is an oenologist and has made wines for over 20 years. She has had the privilege to work in the all wine-making regions of Romania, as well as in countries of the New World such as Australia and South Africa. Step by step she has turned her passion into a business, which fetched a turnover of 1.5 million Euro in 2013.
"Naturally, from the very beginning of my wine-making career, I looked forward to the day when I would be able to make wine in my own winery. That was just a dream until 2003, when, taking the advice of my associate, Steve Cacenco, I laid the foundations of the Shteni winery. I could not have achieved that without my associate's support," said Aurelia Visinescu
She always remembers with pleasure the early days of her career back in 1993. "I was very proud that I'd managed to get that job in a private company, with modern offices and computers. That was the ultimate standard at the time." For the short term, she dreamed of buying a new dress and a pair of shoes from her first salary, and for the long term she dreamed of making good wines. Her short-term dream did not come true, but she has succeeded in making good wines.
She confesses that success seems within reach when one sketches out plans on paper, but implementing those business plans involves a lot of work and patience. In other words, a wine business is a long-term endeavor. She emphasizes that it takes four years for grape vines to bear fruit, quality red wine needs to be aged and there can be years when grape production is poor.
"For example, in 2010 we had no grapes because of the severe temperatures during the previous winter. Even so, the vineyard requires maintenance, the wine needs to be aged and stored in certain conditions, which implies constant investments and expenses. We bought the land one hectare at a time from the local owners, aiming to develop our vineyards close to the winery. The equipment for the winery and the construction of our outbuildings also involved large investments.
To read the full version, see the print edition of Business Arena.

COMENTARII:
Fii tu primul care comenteaza