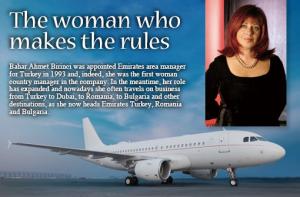 Bahar Ahmet Birinci was appointed Emirates area manager for Turkey in 1993 and, indeed, she was the first woman country manager in the company. In the meantime, her role has expanded and nowadays she often travels on business from Turkey to Dubai, to Romania, to Bulgaria and other destinations, as she now heads Emirates Turkey, Romania and Bulgaria.

When was the last time you visited Romania? Can you tell us the purpose of your trip?
I love to visit Romania but due to my very heavy schedule I cannot do this very often. Also, having a very strong GSA partner, World Travel, for so many years in Romania helps a lot. The purpose of my trips is usually to sit down with the management and sales teams of our GSA, discuss progress and visit some travel agents.

What is your view regarding Romania's aviation market in terms of its current status and potential?
Romania is a steadily developing market, with air traffic increasing year after year. Although the major traffic flows from/ to Romania have focused on Europe, followed by North America, destinations in the Middle East, Asia, Australia and Africa have been increasing constantly and we expect the trend to continue even more strongly in the future.


To read the full version, see the print edition of Business Arena.
COMENTARII:
Fii tu primul care comenteaza