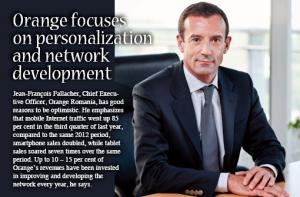 Jean-François Fallacher, Chief Executive Officer, Orange Romania, has good reasons to be optimistic. He emphasizes that mobile Internet traffic went up 85 per cent in the third quarter of last year, compared to the same 2012 period, smartphone sales doubled, while tablet sales soared seven times over the same period. Up to 10-15 per cent of Orange's revenues have been invested in improving and developing the network every year, he says.
What new licenses did Orange acquire and how will that be mirrored in the development of your infrastructure and network?
At the ANCOM auction in 2012, Orange secured the rights to use spectrum in the 800 MHz, 900 MHz, 1800 MHz and 2600 MHz frequency bands for 16 years. These licenses allow us to continue to offer our clients quality 2G and 3G services and implement new technologies, such as the LTE.
Now we are using the existing 900 and 1800 MHz bands, which allowed us to launch 4G services in 2012 and expand their coverage in Bucharest in the autumn of 2013.
Last year was dedicated to preparation works. We invested and worked on adapting our network, to free up spectrum in the 900 MHz band and use the resulting spectrum. In April 2014, when the 2.600 MHz bands become available, we will be able to expand our 4G coverage and make use of all the potential that the 4G technology can deliver.
What are the biggest challenges for your company in a constantly changing world, in which computers can be worn as bracelets and home appliances can talk? How can you cope with the thirst for state-of-the-art technology?
Romania has a very dynamic telecommunications market, offering many challenges and a great potential at the same time. Romanians love techno­logy and are more and more open to adopting new devices and using the latest gene­ration of services. The trend is reflected in the evolution of mobile Internet, traffic soaring 85 per cent in the third quarter of 2013, compared to the same period of 2012, and in the sales of intelligent mobil.


To read the full version, see the print edition of Business Arena.
COMENTARII:
Fii tu primul care comenteaza