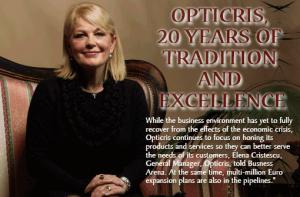 While the business environment has yet to fully recover from the effects of the economic crisis, Opticris continues to focus on honing its products and services so they can better serve the needs of its customers, Elena Cristescu, General Manager, Opticris, told Busness Arena. At the same time, multi-million Euro expansion plans are also in the pipelines."
How did the Opticris story begin? Tell us something about the first pair of glasses.
It's a truly interesting story and I am proud to be part of it. The history of this tradition is superb. My husband's father invented the first machine for making eyeglass hinges in 1947 and he manufactured the first hinges for eyeglasses in Romania. Later, he started manufacturing frames using a pantograph and, years later, he started using manual and semi-automated injection. My husband continues this tradition and he made the first series of glasses in 1976 as a small entrepreneur.
Now our production capacity exceeds 300,000 frames, sold under the Cris brand in Romania, Hungary and other European countries, part of Cris Basic, Cris Elite and Cris Junior collections. After 20 years, we can no longer speak about a "family business". This is what defines us every day.
When did you open your first store? How did you hire your first employees?
We moved towards opening our own showrooms in 1993, when the Cristescu family decided to open the first Opticris store and computerized optometry center in Cluj-Napoca. It was an act of courage back in those days. Our first employees? I was one of them and we also had an exceptional team of doctors. Our medical and lab equipment has been state-of-the-art from the very beginning. Later, we gradually learned how to offer customers personalized products and services to suit their individual needs. The first store and optometry center was an important business lesson, a first step in the development of our company. Selling not only involves offering a product or a service and receiving money in return. It's an entirely emotional process. Products, services and clients all have stories of their own, and you have to aim for perfection and meet clients' needs, offering the best available products. Today, we have a network of 24 computerized optometry centers in Bucharest and in ten other major cities, following last year's two million Euro investments in expansion. Our latest optometry center opened for business in Magheru Blvd., within the Eva store, and, on the same occasion, we also launched the "Exclusive Brands" concept.


To read the full version, see the print edition of Business Arena.
COMENTARII:
Fii tu primul care comenteaza