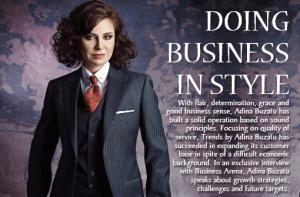 Do you have plans to open new concept stores in the next 12 months?
I do not intend to expand my business in the near future, as what matters to me the most is the quality of my services. My involvement and presence in a third store could not be at the same level as it is now, which means that I could not advise my customers to the same degree. Increasing my turnover is not as important to me as maintaining exceptional services. These services are actually my defining feature. I have received several requests for franchise stores, but I rejected all of them, although they would have most certainly been profitable.
What exclusive brands are currently offered by Trends by Adina Buzatu? What new brands are likely to be introduced over the coming period?
We are the exclusive Romanian representatives of 52 brands which are famous in the whole world. Since we speak about fashion, most of such brands are, obviously, Italian. Borsalino – the top hat brand worldwide, which also inspired the movie bearing the same name and starring Alain Delon and Jean Paul Belmondo, Bagutta – an important shirt brand, Ortigni – a traditional manufacturer since 1930, Calabrese – the most prominent accessories producer. Each tie and bow tie is an "objet d'art". We also have British brands. Babette Wasserman – the men's jewelry collection of famous designer Albert Thurston – a brand which belonged to and bears the name of the person who invented the braces in 1820. This famous brand has been the favorite brand of style-icons such as Fred Astaire, Frank Sinatra, Winston Churchill, Michael Douglas, Daniel Craig. The power which a pair a braces can give to men's appearance is incredible! This is best shown by the fact that stylists chose braces to shape Wall Street movie character, Gordon Gecko, the controversial businessman played by Michael Douglas. Businessmen should have this in mind when they want to impose upon others.
To read the full version, see the print edition of Business Arena.
COMENTARII:
Fii tu primul care comenteaza